Astral Recurring Invoices
Astral Recurring Invoices allows you to easily create Recurring Invoice templates for your customers within Microsoft Dynamics 365 Business Central
 Available for On Premise and SaaS
Speed up your billing process
Automate and personalise your billings for faster, more efficient billing cycles.
Daily/weekly/monthly/yearly billing schedules
Add Recurring Invoice terms to be shown in the invoice agreement
Create templates with G/L Accounts, Resources, and NonInventory Items
Use Date Placeholders for swifter input each time
Create Sales Invoices directly from Astral Recurring Invoices
Create multiple Sales Invoices for all Recurring Invoices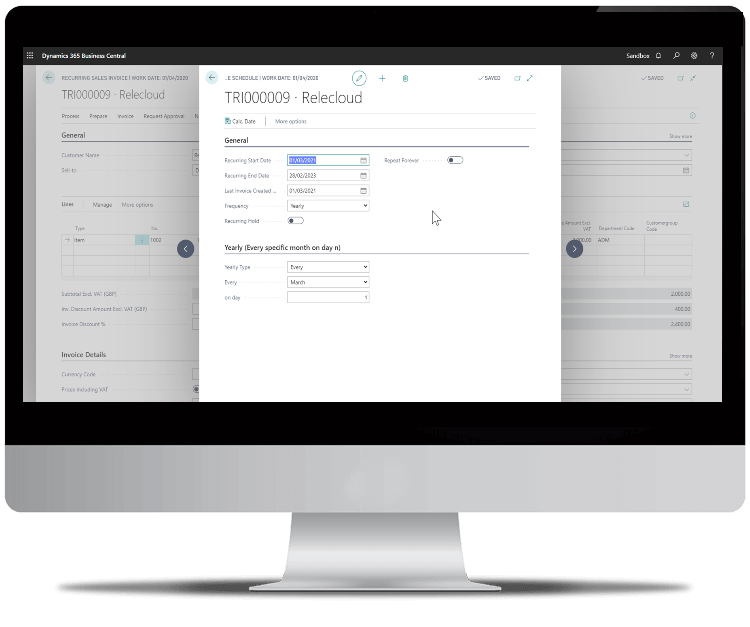 Astral Recurring Invoices vs Business Central Standard Functionality
This extension offers far more functionality to a business than the standard Microsoft Dynamics 365 Business Central "Recurring Sales Lines" function.
The user can setup a template for a specific customer, print a Recurring Invoice Agreement, and decide how they wish to bill that agreement in a variety of different periodic combinations.
For more information:
For more information on Astral Recurring Invoices, visit the Astral 365 website www.astral365.com, or click below.
Explore Extensions
Useful Guides
Extension Videos
Astral Reports
Astral eversign
Astral GoCardless
Astral Recurring Invoices
Astral Send