Soft4RealEstate
Property Management Software
For Microsoft Dynamics NAV with Soft4realestate
Soft4RealEstate is a flexible solution for businesses that own or manage residential, retail, office or industrial properties. Based on the Microsoft Dynamics NAV platform, you can enjoy all the advantages of a fully featured property management system with a comprehensive business management solution that helps your people work faster and smarter.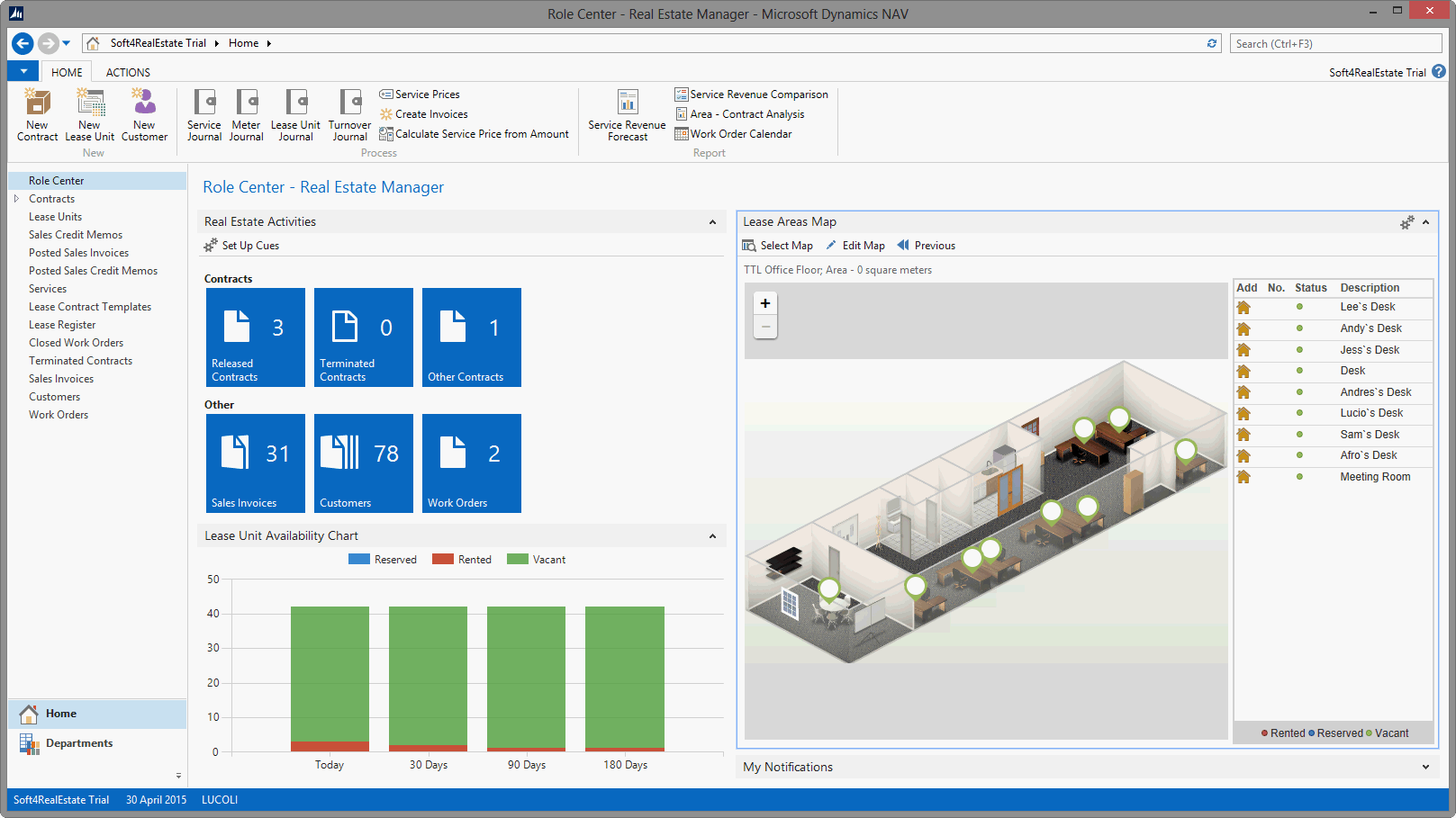 Have all the information you need right at your fingertips with Microsoft Dynamics NAV Role-Based experience. No matter your role within the business, whether you work in Finance, Sales or Purchasing the role centre gives you easy access to your daily tasks. By ensuring that the solution works seamlessly with Microsoft office products, training time will be reduced, encouraging people to work more efficiently.
Business analysis tools seamlessly integrate with other Microsoft Office products such as Excel, Word and SharePoint, giving access to real-time data. Regardless of where the data is entered, either managing tenants, contracts, inventory, work orders or invoicing it is fully integrated with the financial accounting function. 
Key Features of the software
Property Lease Sales management
Manage your sales pipeline: track and monitor leads and opportunities in the pipeline for all vacant premises, generate reports to visualize information about sales stages, analyse the sales team's performance and manage communications with existing and potential clients.
Lease unit management
Create a multilevel unit structure and keep track of unit area changes. Add assets to units, upload pictures, floor maps, add notes and save links related to a specific unit or property directly.
Tenant management
Store tenant data: company information, contact information, personal data (as per GDPR requirements), bank accounts. Track due invoices, debts and payments.
Lease contract management
Save time creating lease contracts on your branded templates with all the contract data filled in automatically, set up various pricing rules; add multiple services or lease units to one contract, set reminders on contract expiration date. Attach all the related lease documents to the Lease Contract Card to have all data in one place.
Common area maintenance (CAM) calculation
Control fees for maintenance, heating, water supply, electricity, security etc. Set up meters, track meter readings and save your time on calculating Common Area Maintenance fees based on the rules set up in the system.
Work orders management
Solve property maintenance issues efficiently. Track customer requests and plan your maintenance work, create work orders, set up appointment times and assign them to your employees.
Explore Extensions
Useful Guides
Extension Videos
Astral Reports
Astral eversign
Astral GoCardless
Astral Recurring Invoices
Astral Send