Everything you need to know about Microsoft Dynamics NAV 2017
---
Posted on 04 July 2017 at 15:39 UK time
---

If you've been part of the MSDN community, you'll already know that every year means a new release for NAV. Most of the time it comes with usability enhancements, compatibility enhancements and recently the focus on a better more adaptable interface has been a key development in the software. This year showed a whole new side to the way in which we use NAV, with better integrations with Office 365, CRM and Power BI and now incorporating the ability to search and organise your items with image previews.
HOW THINGS HAVE COME TOGETHER
Enhancing the core application and platform
EASY SETUP AND CONFIG
Get up and running even faster. With an assisted setup wizard that will help you import data, set up integration with Office 365 and much more. Set up and adjust cash-flow forecasting, gathering data from all relevant sources to provide you with a complete overview.
USER EXPERIENCE ENHANCEMENTS
Accomplish more with a browser-based interface. Switch views to see and identify your lists of records, and use wizards to learn new concepts or simplify data entry.
READY TO USE FINANCE
Now work with ready-to-use financial statements and gain accessible insights to the financial performance of your business. Now quick and intuitive with the new default Account Schedules, to produce the financial reports you need. Now report easier with the new Account Categories (and sub categories) which provide structure to your chart of accounts.
MANAGE JOBS BETTER
Manage projects more easily and gain visibility into the details, set up jobs and enter timesheets using the new Job Setup Wizard. Quickly access common tasks, new charts and a new My Jobs list using the new and improved Project Manager role center.
THE BIG ONE.. INTEGRATION WITH CRM
Continuing to streamline your CRM experience where the Microsoft Dynamics NAV Integration Solution on the CRM side is automatically deployed through the wizard.
NEW* ITEMS
Organise and classify your products the way you want with the ability to perform advanced searches on your catalog in just a few clicks.
Bringing two worlds together.
IN OFFICE 365 EXPERIENCE
NAV 2017 is directly linked to Microsoft Office 365, enabling you to review, analyse, and share data with collegues. Navigate with ease through Microsoft Outlook, Microsoft Bookings or Excel.
EMBEDDED POWER BI
Create insightful charts and reports, then make them available within the Dynamics NAV 2017 role center. Sample reports within the NAV 2017 Power BI Content Pack, and see useful examples of what you can do with Power BI, in a demo or production environment.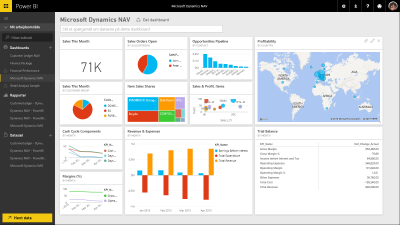 Creating new, better opportunities.
E-EVERYTHING
Pay your invoices online by including hyperlinks to payment services such as PayPal. Make use of the Optical Character Recognition (OCR). NAV 2017 enables you to train the OCR system online, using the Lexmark invoice capture service.
HELLO CORTANA
Predict sales, helping you to manage stock and respond to your customers. Feel confident that you are working with the best predictions, as the system uses different machine learning algorithms and compares the results.
POWER APPS & MICROSOFT FLOW
As mentioned before, Microsoft Dynamics NAV 2017 includes and entirely new integration with Microsoft Power BI.
EXTENSIONS
Now it's easier to deploy, manage and upgrade customisations or extensions with NAV 2017.
To learn more about Microsoft Dynamics NAV, read Is NAV right for me and my business?, 5 signs to switch up your software and 8 reasons to finally do that upgrade.
---